UPCOMING WPPSA EVENTS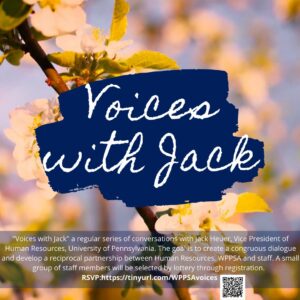 Voices with Jack
Tuesday, December 7, 2021
Time: 12:00pm – 1:00pm
Virtual | RSVP HERE
"Voices with Jack" a regular series of conversations with Jack Heuer, Vice President of Human Resources, University of Pennsylvania. The goal is to create a congruous dialogue and develop a reciprocal partnership between Human Resources, WPPSA and staff. A small group of staff members will be selected by lottery through registration.
---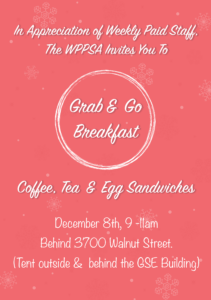 Holiday WPPSA Welcome
Wednesday, December 8, 2021
Time: 9:00am – 11:00am
Location: 3700 Walnut Street (Tent outside behind GSE Building) | RSVP HERE
Celebrate some holiday cheer with WPPSA! Our weekly paid staff are invited to join us for a "meet and greet" with our board and members. Breakfast (breakfast sandwiches, coffee & tea) and free give-a-ways will be provided to grab and go for our attendees. To ensure we can accommodate everyone, please RSVP!
MISSION
The mission of WPPSA is to represent and support the interest of its membership in all areas of the University life and community. We are committed to addressing the needs and concerns of our members by encouraging motivation, leadership, support, and humanitarianism. Our priority is to bring awareness to campus resources, develop enrichment programming and encourage community within our campus. We strive to create opportunities for full-time, weekly-paid professional staff to discuss and contribute to various university issues, through appointed positions on university committees.