WPPSA January 2019 Meeting
Join the WPPSA at 12:30pm on  Tuesday, January 8, 2019 in Conference Room B 201 at 3401 Walnut Street.
We will have a special guest speaker for this meeting from Penn's Information Security staff,  Wiam Younes, who handles Training and Awareness.
Download the Protecting Penn: Information Security brochure.
————————————————————WPPSA Holiday Party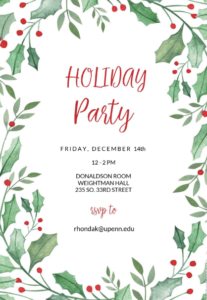 Please join the WPPSA on Friday, December 14th from 12-2pm for our Holiday Party at the Dunning Coaches' Center – 235 South 33rd Street.
RSVP to rhondak@upenn.edu
————————————————————
Employee Resources Fair
The Penn Professional Staff Assembly (PPSA) and the Weekly-Paid Penn Professional Staff Assembly (WPPSA) are joining together to present the Employee Resource Fair on Tuesday, October 2, 2018, 12:00 pm- 1:30 pm in Bodek Lounge and Reading Room, Houston Hall. This initiative is supported largely through the Offices of the Executive Vice President and Human Resources. Stop by for information on the services and resources available to employees, receive giveaways and raffle prizes, and network with colleagues. Dozens of offices and resource centers will be present to provide information and answer questions on resources available to all Penn employees. If you are a weekly paid employee you owe it to yourself to visit our (your) table.
Who: WPPSA or Weekly-Paid Professional Staff Assemly. A University sanctioned (approved) organization generally representing the "not directly academic related working class" in all University matters.
When: October 2, 2018, 12:00 pm- 1:30 pm
Where: Bodek Lounge and Reading Room, Houston Hall
What: Find out what WPPSA is all about; how WPPSA can make your Penn experience more beneficial, fun and enjoyable; how you can become a member of WPPSA
For more information on the Fair please contact ppsa@lists.upenn.edu.
We look forward to seeing you!
Penn Family Day
Faculty, staff, and postdoctoral scholars are invited to bring family and friends to the 26th annual Penn Family Day on October 13, 2018.
Some of the things you can enjoy:
A free meal and games at the tailgate party.
Watch a Penn's football team battle Yale—live at Franklin Field.
Visit the Penn Museum for special activities and exhibits.
Watch Penn's Men's or Women's Soccer team take on Yale at Rhodes field.
Go for a skate at Penn's Ice Rink.