FREQUENTLY ASKED QUESTIONS
Why join WPPSA?
Penn cultivates excellence, leverage leadership, community and equity forward. Members join WPPSA to meet new people for personal and professional growth. Penn Staff are encouraged to be the difference in our community.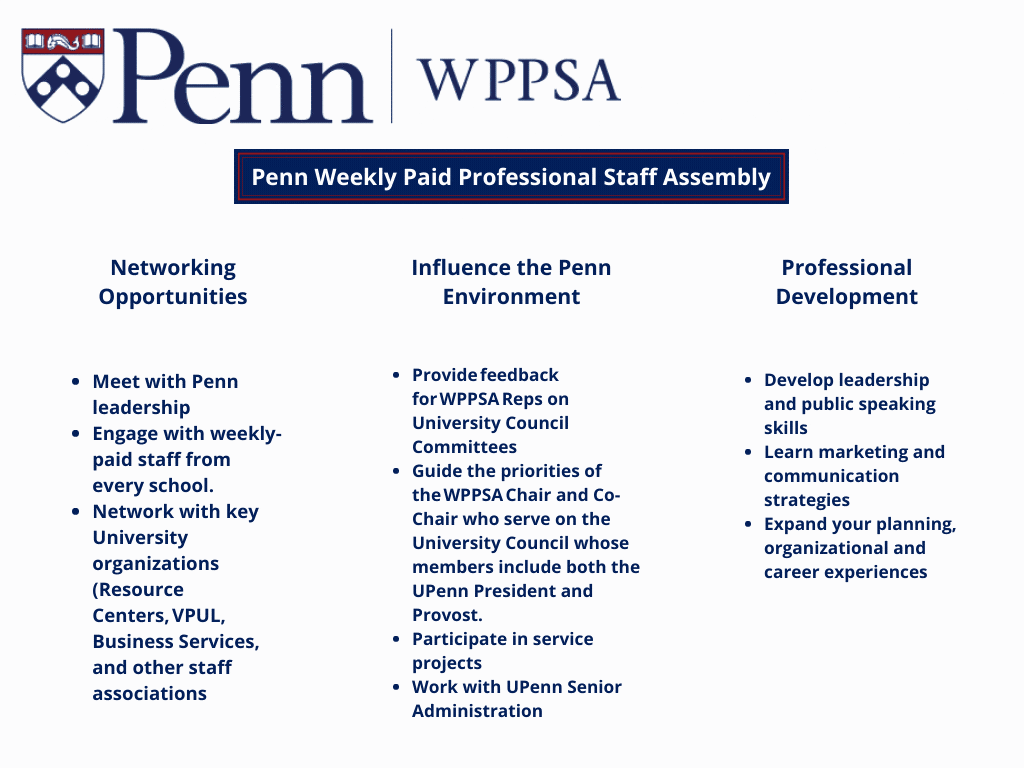 Necessary reasons include:
Networking opportunities

Meet with Penn leadership
Engage with weekly-paid staff from every school.
Network with key University organizations (Resource Centers, VPUL, Business Services,and other staff associations

Influence the Penn environment

Provide feedback for WPPSA Reps on University Council Committees
Guide the priorities of the WPPSA Chair and Co-Chair who serve on the University Council whose members include both the UPenn President and Provost.
Participate in service projects
Work with UPenn Senior Administration

Professional Development

Develop leadership and public speaking skills
Learn marketing and communication strategies
Expand your planning, organizational and career experiences

Who can be a member?
Any full-time weekly-paid (non-union) employee can be a member of the WPPSA. Monthly-paid employees should consider joining the PPSA.

What has WPPSA accomplished?
WPPSA has made strides in influencing both University policy and culture including:
Obtain seats for weekly-paid staff on the University Council and its Committees
Increase the visibility of full-time weekly-paid staff within the University environment
Advocate for childcare benefits
Advocate for equal access to retirement benefits among staff
Advocate for greater mentoring and career counseling at Penn
How can I get involved?
All weekly paid staff are included as members of WPPSA. If you have not received emails, https://tinyurl.com/pennwppsa. Join the Assembly and plan to attend the next general membership meetings or upcoming events. You can also request to join University-mandated committees. You can also volunteer to help with event planning by contacting the WPPSA Chair, Amber Banayat at abanayat@upenn.edu

When is the next meeting or event?
You can find more information about our meetings and events on our events tab.

What events have you previously hosted?
Our goal is to offer and share relevant and valuable information on new campus initiatives, resources and events. We have invited a variety of inspiring senior leadership as guest speakers including the Lyn Marsden-Atlass, University of Pennsylvania Curator and Director of the Arthur Ross Gallery, University Chaplain Rev. Charles L.Howard, Ph.D, Netter Center, Sherisse Laud-Hammond, Director of UPenn Women's Center, Virgin Pulse representative and more.
How do you contact us?
Do you have feedback or suggestions? We want weekly-paid staff to join us in creating a community that inspires and reinvents. Please use this form to reach out.